Comanchero Rendezvous 2015
SATURDAY, JUNE 27TH, 2015
---
Article from The Caprock Courier, written by Carol Campbell
---
by Carol Campbell
About 100 area residents attended the 2nd annual Rendezvous at the Comanchero Canyons Museum in Quitaque on Saturday, June 28, 2015. The new area museum is the culmination of three years of grant writing, remodeling, and networking by a "hands on" group of volunteers.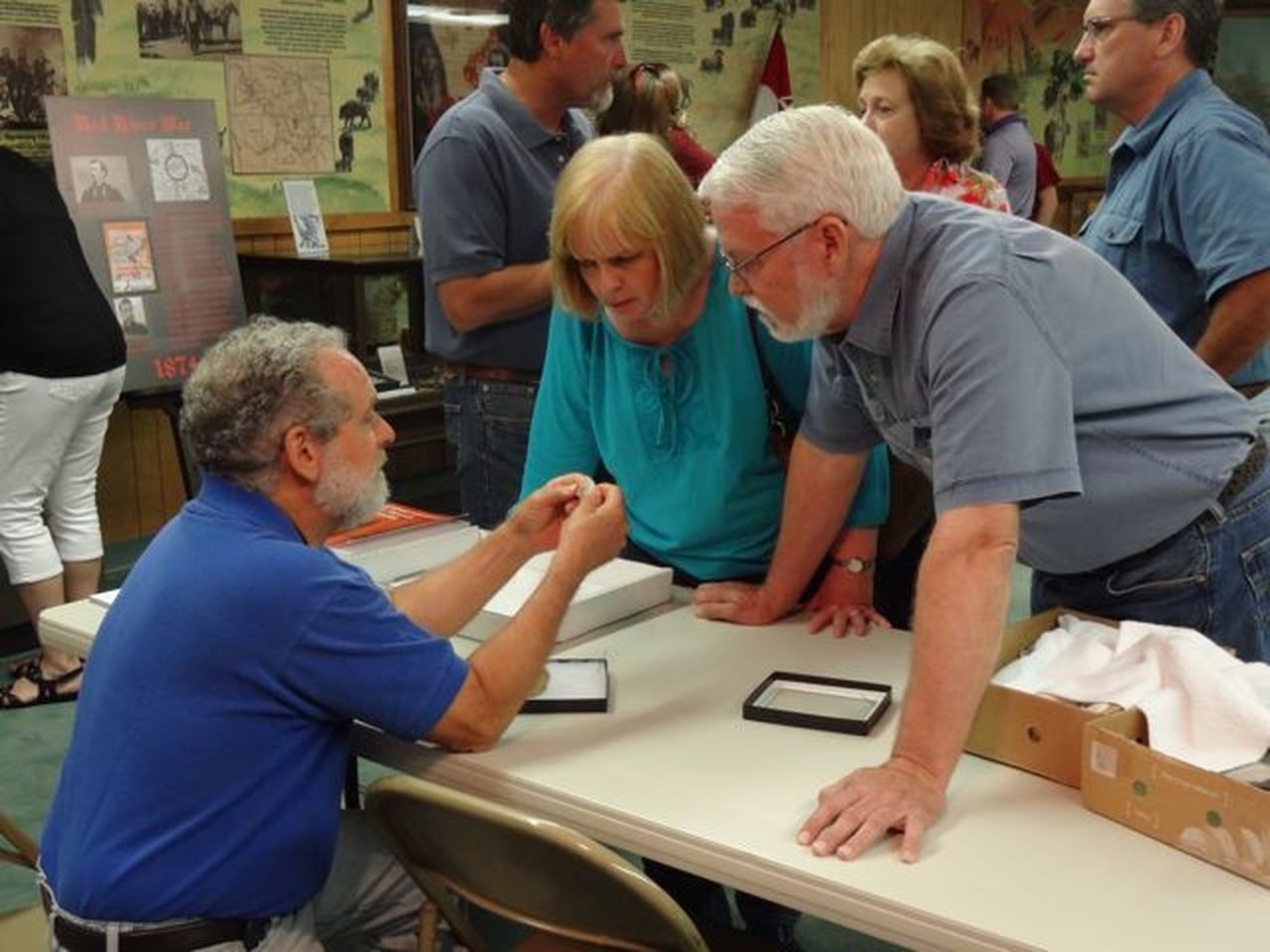 Archaeological expert Paul Katz examining visitor's artifacts.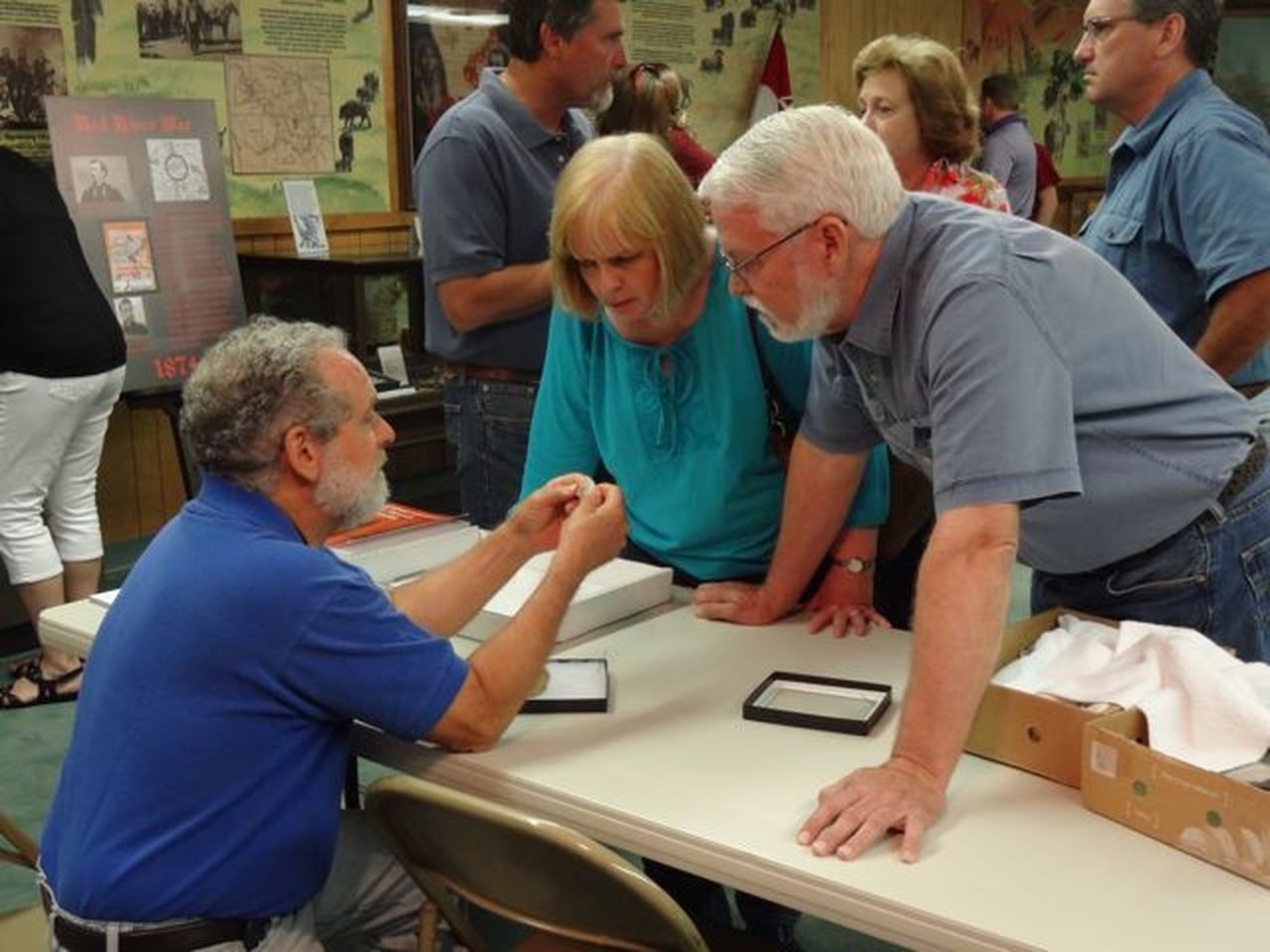 Archaeological expert Paul Katz examining visitor's artifacts.
Board members hosted a hamburger cookout for guests and the community to celebrate the formal opening of their fully remodeled facility. Live music with Cecil White, Turkey, TX, on guitar and John Walker, Quitaque, TX, on keyboard, entertained the guests with familiar music - "oldies but goodies."
Exhibits featured the "diverse history of the area of Briscoe, Hall, Motley, Floyd and Swisher Counties." The Mission of the museum is to: "... educate young people raised in this area about the rich-ness of the past ... so they will become good stewards, recognizing the necessity of preserving and promoting history, beauty, and natural resources unique to this area."
The facility, located at 200 S. 3rd Street, Quitaque, is housed in a 3,300 square foot building, donated to the non-profit from the Church of Christ in October 2013. Community volunteers wrote grants, and received major funding from The CH Foundation, Lubbock, in July 2014 to renovate and repurpose the building to showcase exhibits from local and area collectors.
The centerpiece of the museum is a donated Mexican carreta (cart) used by the Comancheros that lived and traded in this area in the 1700s and 1800s. Other artifacts include an exhibit on loan from the Cogdell family featured in a book "Battles of the Red River War" by Brett Cruse, a Hall County native and Texas Historical Commission Site Supervisor.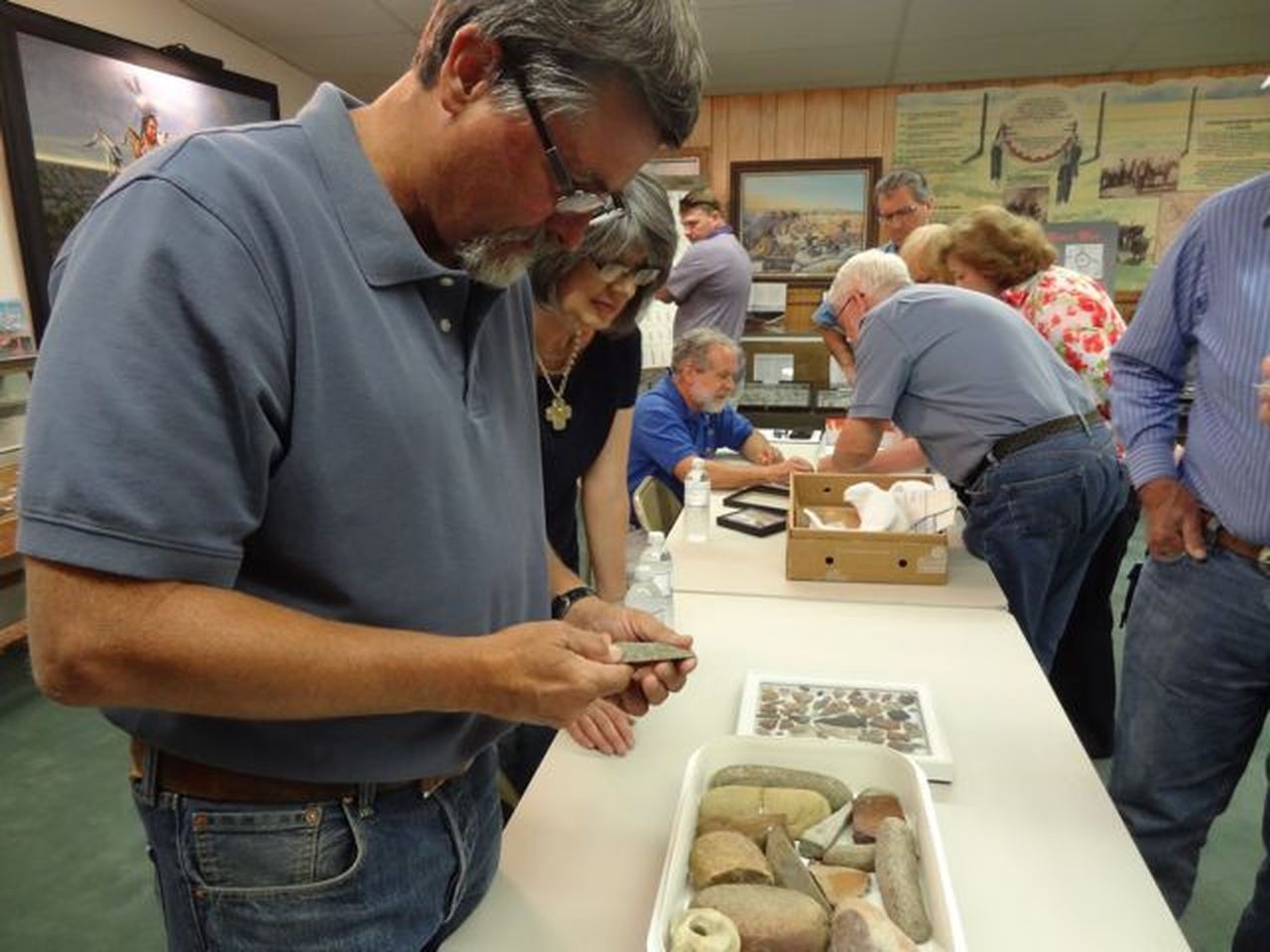 Archaeological experts Rick Day and Paul Katz at the artifact table.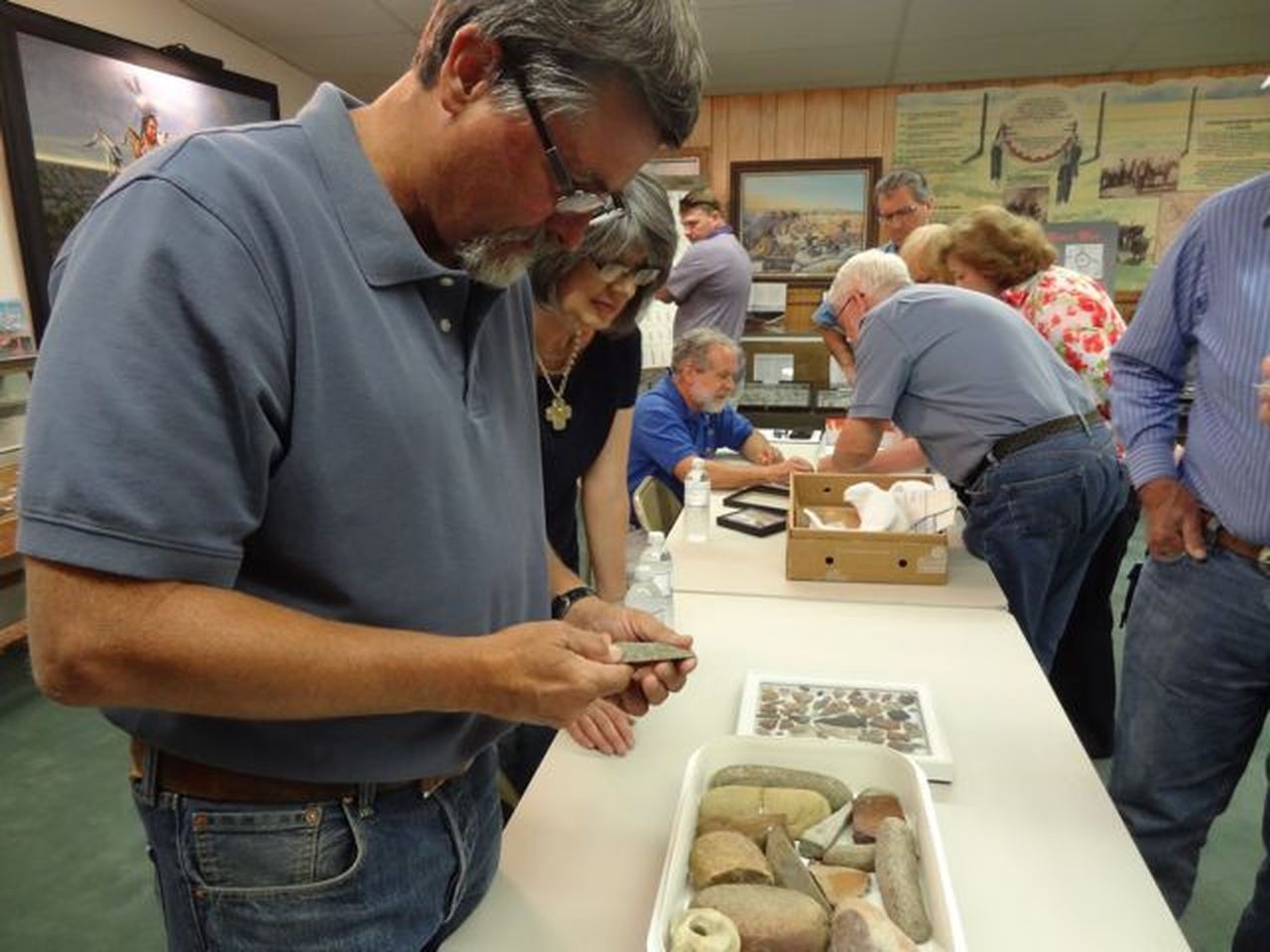 Archaeological experts Rick Day and Paul Katz at the artifact table.
Also, in October 2014, the estate of Otho Stubbs, a native Texan that lived in Turkey, TX, donated part of his extensive collection of artifacts and original art. Stubbs lived with the Pueblo Indians in New Mexico, painted extensively, and studied in several schools of art in Santa Fe and Taos, NM. His personal collection and art is a valued acquisition.
Mayor Ross James and wife, Tonya, Tulia, TX, loaned the museum a large original oil painting by Kenneth Wyatt, entitled "Tule Canyon." It is prominently displayed on the west wall of the large display room. Rick Day, a recently retired professor of history and archeology, now living with his wife and two sons in Whiteflat, TX, also has several fossils and artifacts on display, including dinosaur bones from the Triassic Time Period found in Briscoe County. Also on exhibit is an impressive display of pottery from the Techado Springs Pueblo, near the New Mexico and Arizona border (occupied from 800-1100 AD). Day and his family have been excavating this site for more than 10 years, recovering pottery shards then piecing them together. The pots are beautifully decorated - this exhibit alone is well worth a trip to the museum.
Residents were asked to bring in artifacts for identification by an expert. Archeologist Paul Katz helped Lynn Frizzell, Silverton, TX, to identify a Fresno Point (600 to 1800 AD) found in Briscoe County.
Thanks to a donation by Caprock Canyons State Park, large wall panels help the visitor move through the museum from the first known inhabitants, to prehistoric animals, Native American tribes, early Spanish influence, and early historic era, including the failed Texan-Santa Fe Expedition of 1841 where a group of 240 volunteer soldiers and a few merchants tried to find a route to Santa Fe via the Caprock escarpment. Artifacts from their 18 day harrowing experiences are displayed and the story told in detail at the museum.


The Comanchero Canyons Museum is definitely worth a visit. This area has a rich history, and the museum captures the spirit of the area through the ancient fossils and human treasures left behind by those that lived and walked this land. The museum has truly met its goal of preserving the past for the future.
Board members of the new Comanchero Canyons Museum are: Jerry Leatherman, Ronald Carpenter, Jana Carpenter, Wade Proc-tor, Cecil White, Kim White, Daniel Jenkins, Anthony Kingery, Marisue Potts, Renee' Dudley, Shonda Lee, LeAnn Pigg, Brandei Taylor, Don Turner, Rick Day, and John Walker.