Rendezvous Gathers History and History Makers
FRI, JUNE 11, 2021
---
Written by Marisue Potts and Jerry Leatherman
---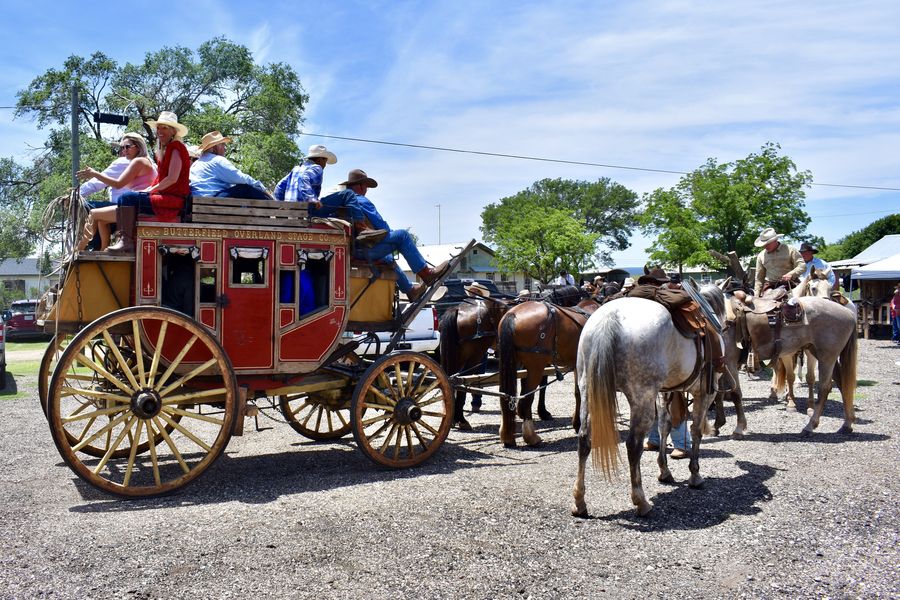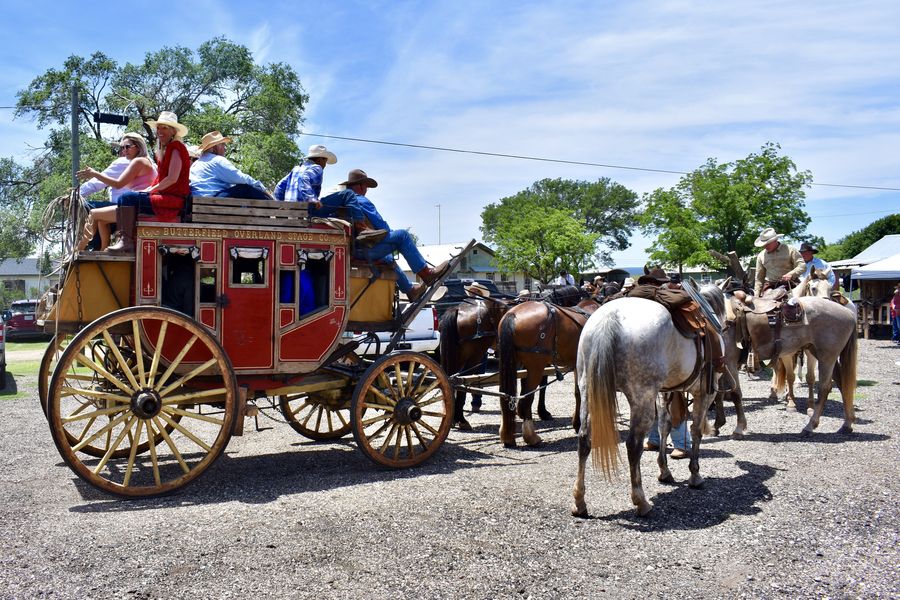 History was being shared and made at the annual gathering or rendezvous of the Comanchero Canyons Museum in Quitaque with a record number of members and visitors in attendance. Over 200 guests were served grilled hamburgers while an even larger crowd was there to hear archeologist and guest speaker Brett Cruse and take in the historic run of The Silver Dollar City Stagecoach through the challenging Palo Duro Canyon, ending its week-long run in Quitaque.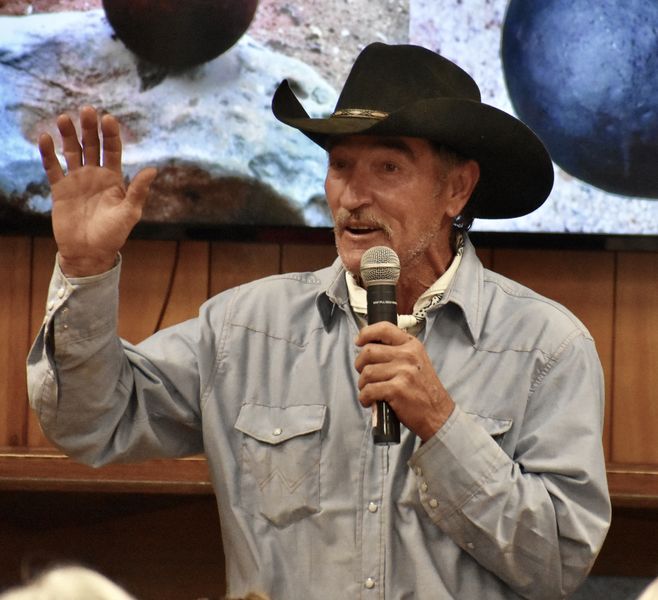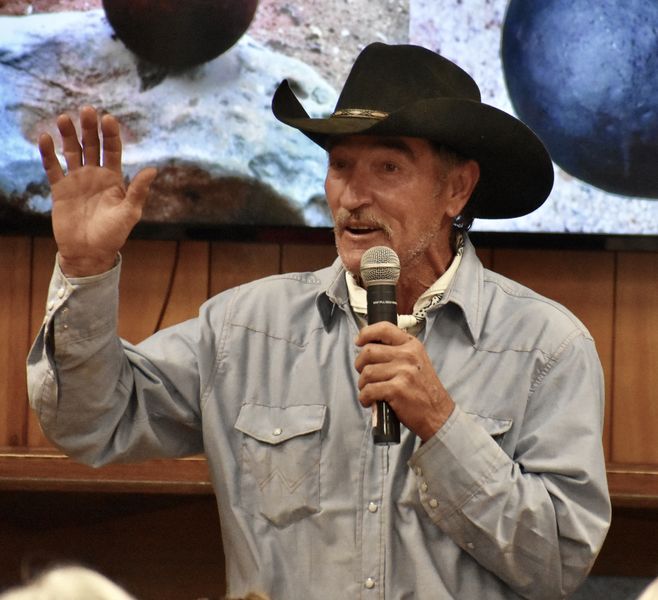 Rick and Bev Hamby of near Branson, Missouri, have coached through this country several times before and returned with a crew of 20 this year to ride within The Shadow of the Palo Duro Canyon, jumping off with a special celebration at Silverton. Other times included their mission to join the historic Butterfield Overland Stage Route to Arizona and the Last Stage to Matador, exploring the JA Ranch Country on the way to Caprock Canyons State Park and rolling into Matador five years ago.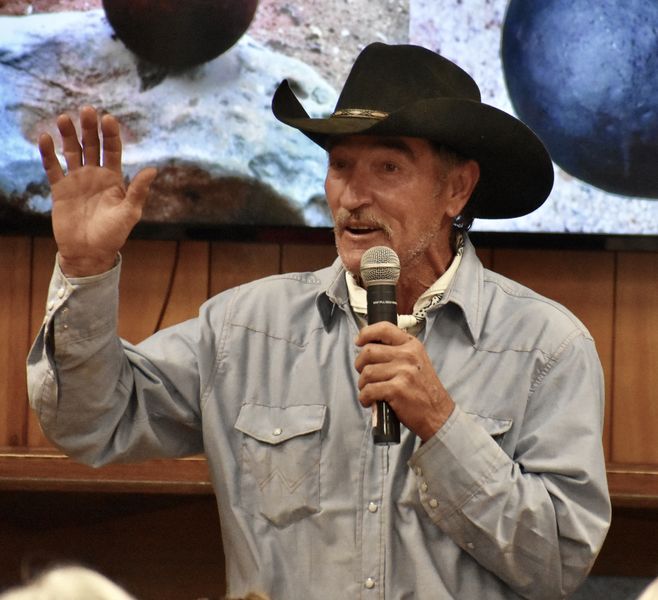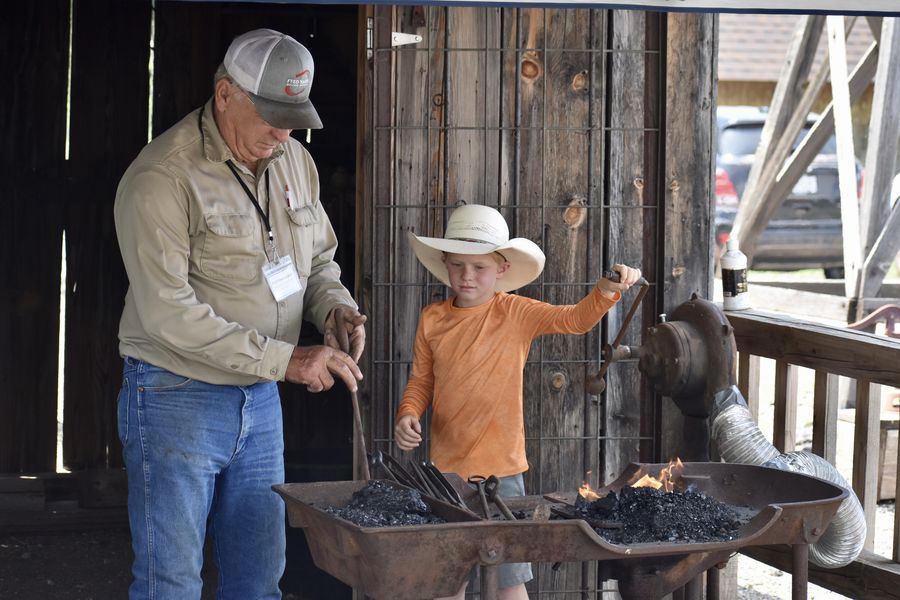 Cotton Elliott's outdoor blacksmith demonstration attracts a young crowd.
This group of ambassadors extolling the virtues of their Christian values spent the week of challenges in the rain, lightning, and washed out roads at their own expense, spreading good will and cheer wherever they alighted. Drawn by four trotters, Amish worked Pacer-Thoroughbred cross horses, the Concord stage was originally used on the Overland Route and later restored by the Hamby family. Today it resides at Silver Dollar City in Branson between runs.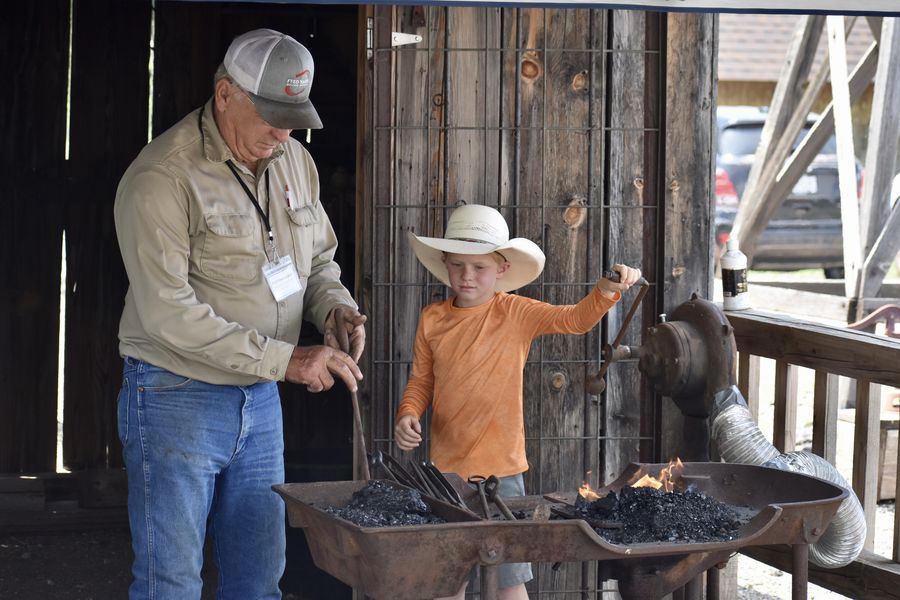 Cotton Elliott's outdoor blacksmith demonstration attracts a young crowd.
The Stagecoach was not the only attraction as people enjoyed visiting at the picnic tables under the canopies set up in the museum yard, where Cotton Elliott fired up a coal-burning forge at the blacksmith shop for demonstrations. A popular feature was hand-hammered copper bracelets for those waiting in line. Making a cameo appearance was sculptor Eddie Dixon, who along with Ralph Chilton, is working on a life-sized sculpture of a Buffalo Soldier and his horse which is destined for a memorial in Washington, D.C. Rick Day, Bill Day, and Todd Smith manned the artifact identification table for those with questions about their own artifact collection.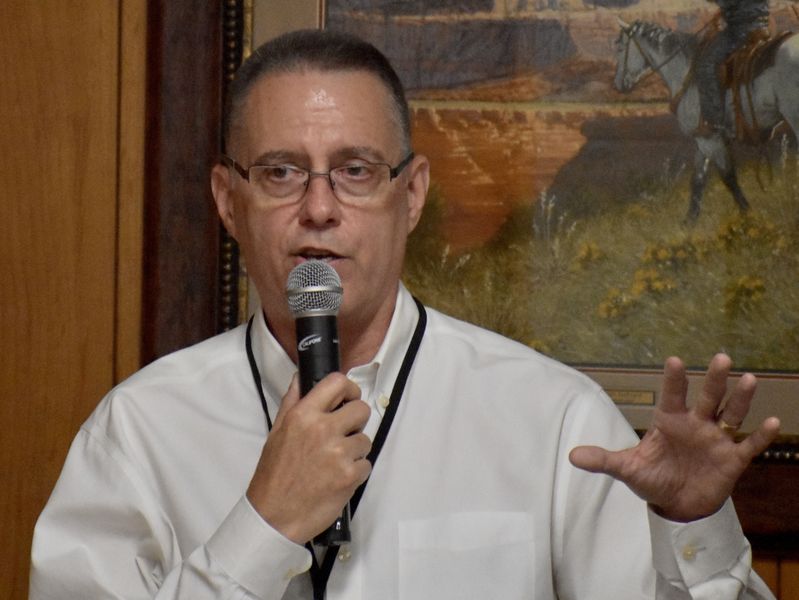 CCM Historical Hero Brett Cruse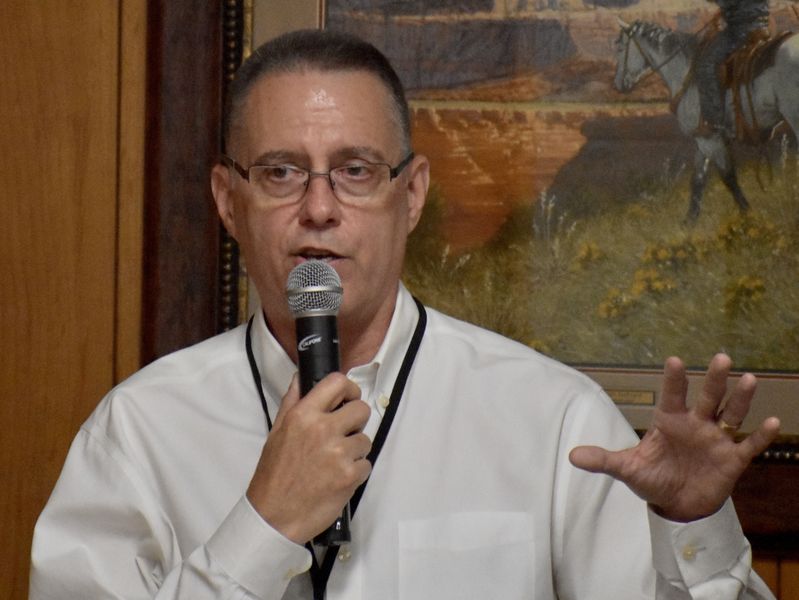 2021 CCM Historical Hero Brett Cruse
The guest speaker for the day, Brett Cruse, is one of several responsible for the recovery of many of the Red River War artifacts displayed courtesy of the extended Cogdell families. Cruse was the Project Director of the Red River War Battle Sites Project from 1998-2008 and is the author of the award-winning book, Battles of the Red River War: Archeological Perspectives on the Indian Campaign of 1874, as well as several scientific journal articles.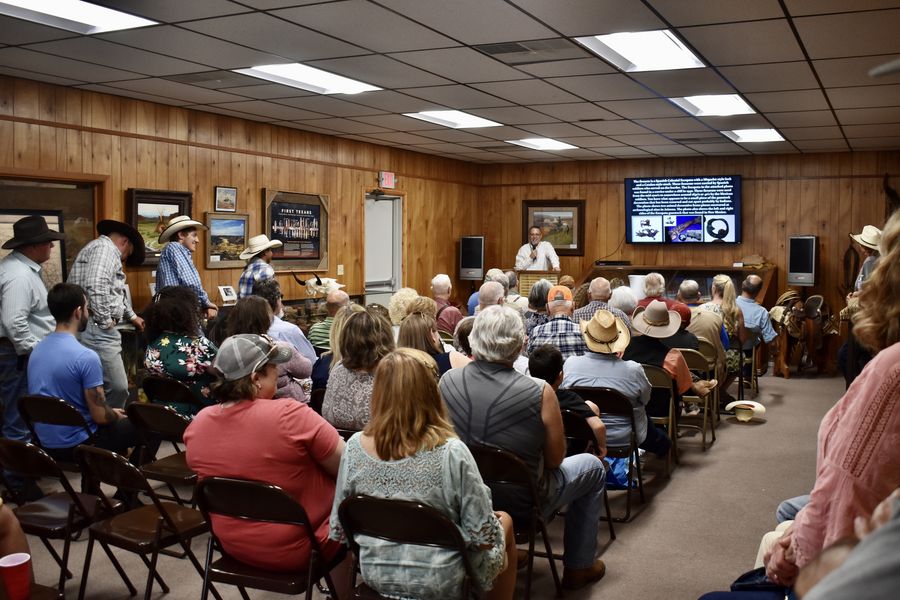 Brett Cruse speaks to a packed museum.
A native of Turkey, Texas, Cruse is an archeologist with the Texas Historical Commission where he serves as the Director of Historic Sites Operations overseeing the management of 13 historic sites across the state of Texas. He received his Bachelor's degree from West Texas State University and a Master's degree in archeology from Texas A&M University. After working on various archeological field projects in the southwest, south, and eastern U.S. Brett joined the Texas Historical Commission in 1995. He and his wife Meg make their home in Round Rock, Texas.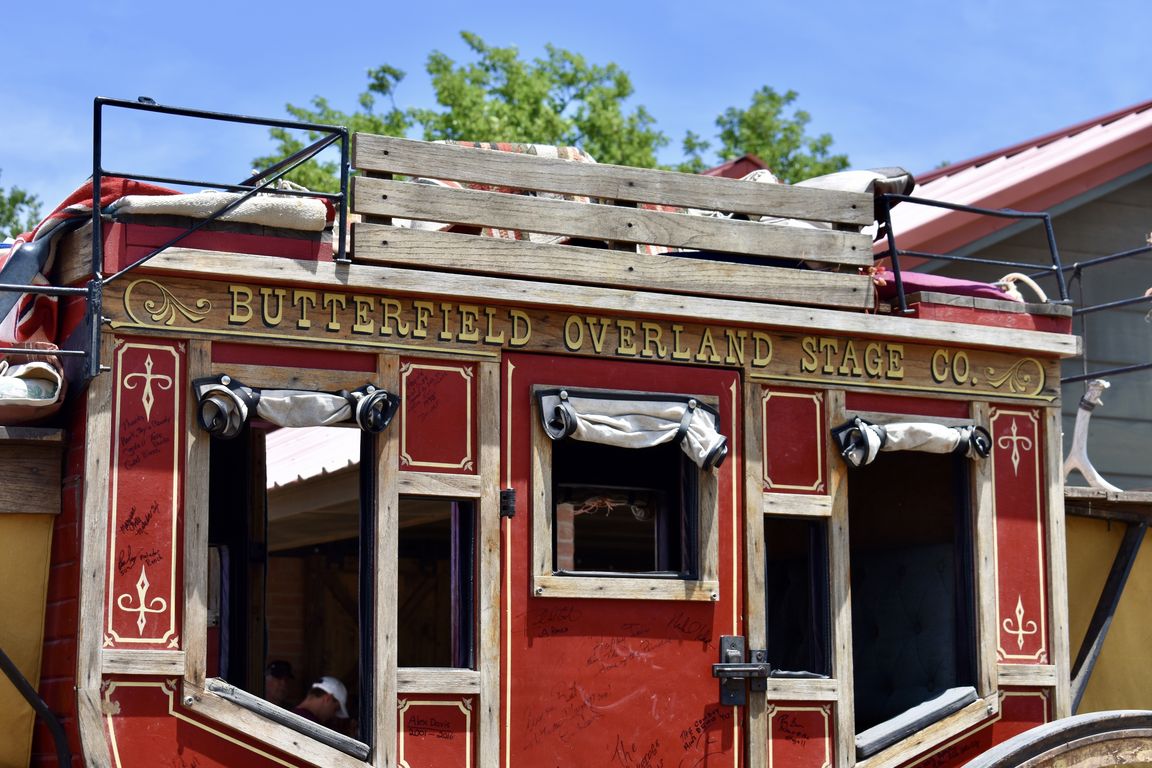 Butterfield Overland Stagecoach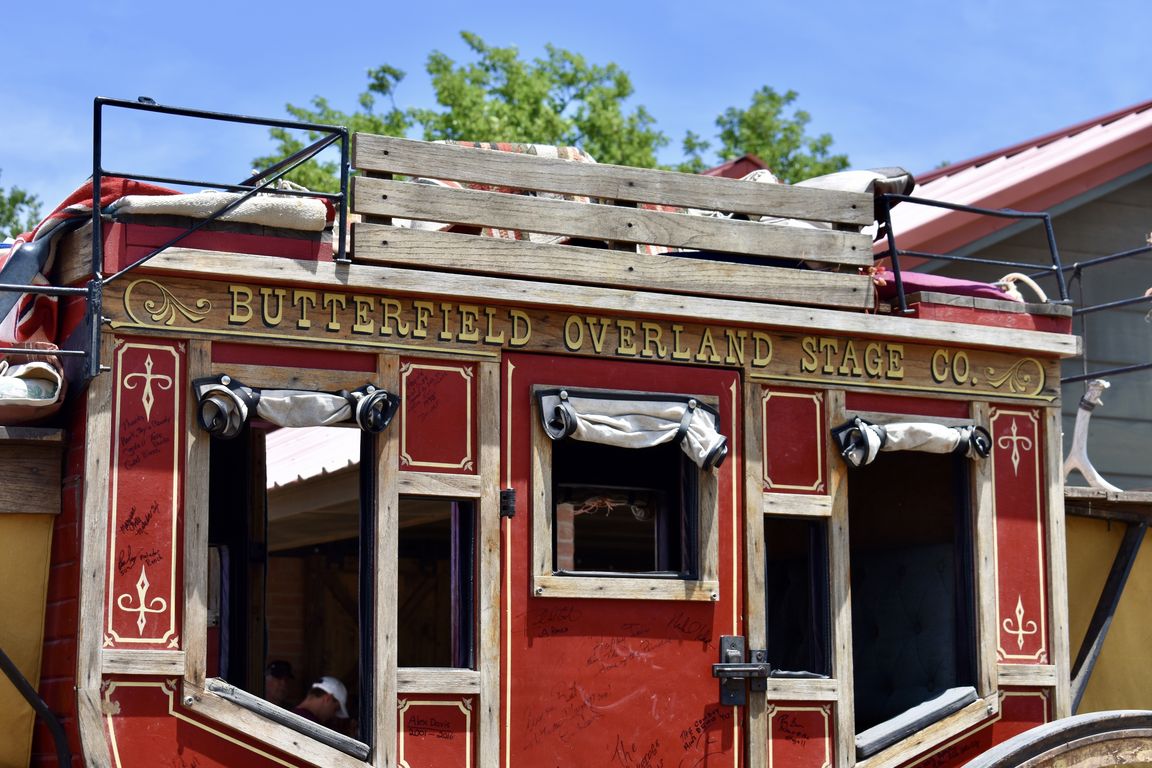 Butterfield Overland Stagecoach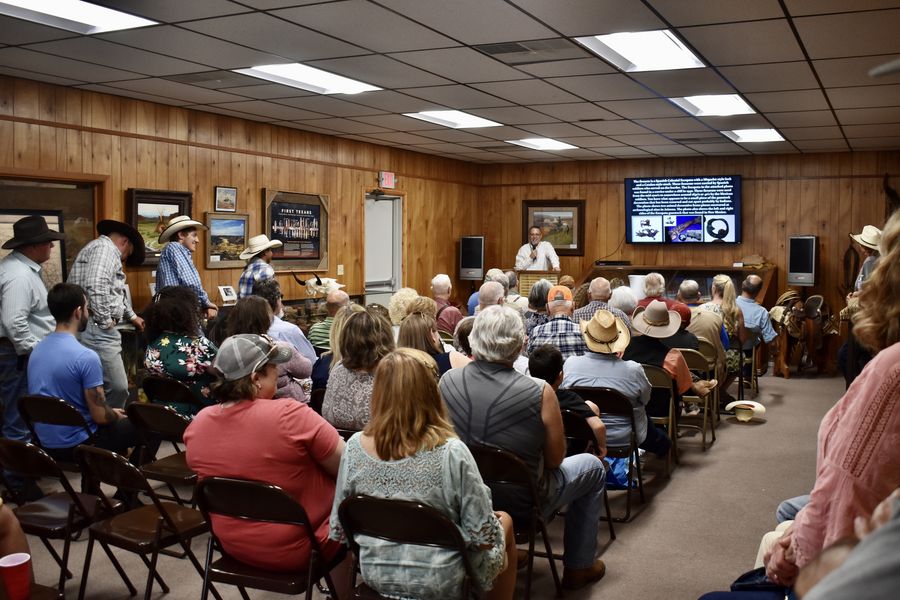 Brett Cruse speaks to a packed museum.
Inside many people who had not visited the museum over the last year of curtailed activities were well pleased to see new exhibits, but of special interest was the recently discovered 100 rings and broaches that are linked to trade goods from the ill-fated Texan-Santa Fe expedition of 1841. Three-hundred and twenty volunteer soldiers left Austin to establish a trade route to Santa Fe, but were stalled at the edge of the Caprock where they camped along the Quitaque Creek. Kiowa Indians, starvation, depression, and illness faced the survivors who were later rescued only to be captured and force-marched to Mexico City jails.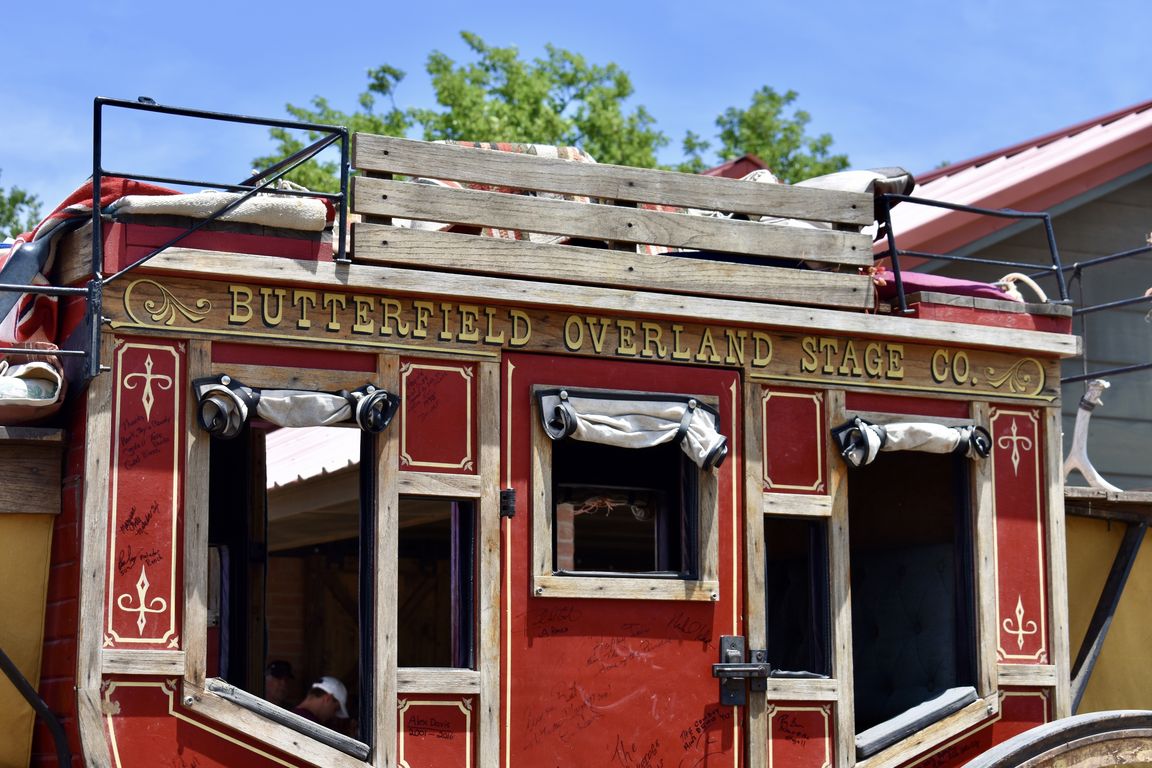 Butterfield Overland Stagecoach
At the end of the day, board members who volunteer their time to the Comanchero Canyons Museum thank all those who also volunteered their time, provided or hauled equipment, set-up tables, and manned the kitchen. Kudos go to Silverton ISD and all who helped make this event a success.
Click here for more photos of the Rendezvous on our Facebook page.