Comanchero Rendezvous 2019
Wednesday, June 29, 2019
---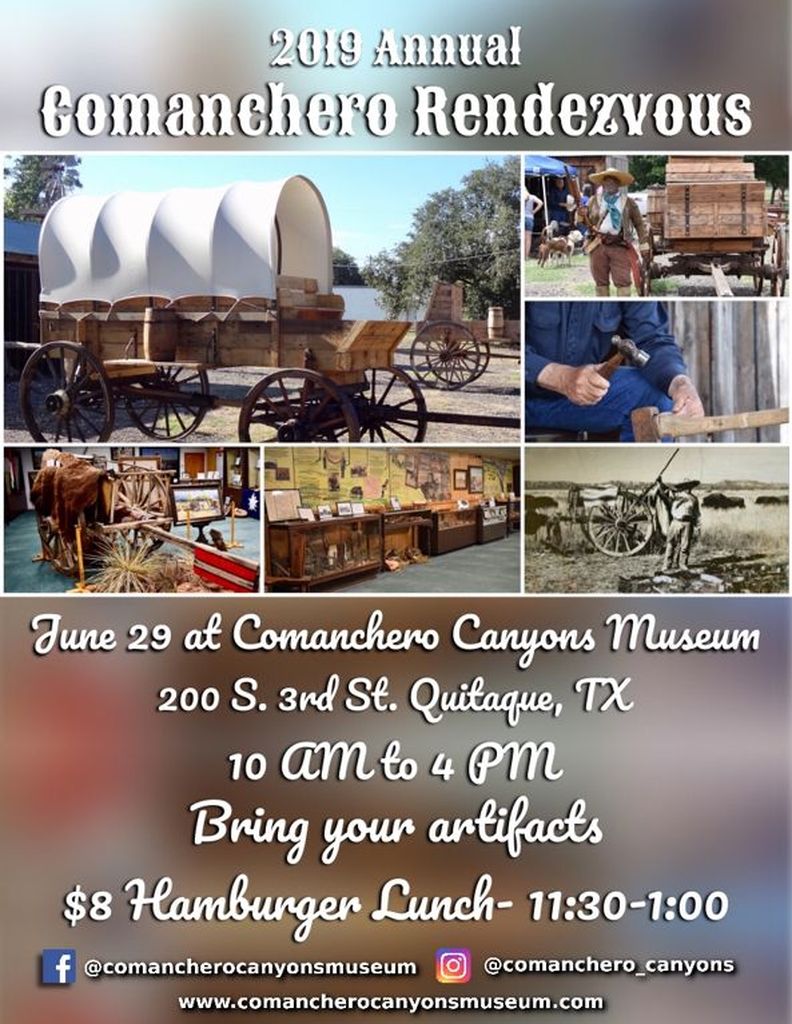 2019 Comanchero Rendezvous flyer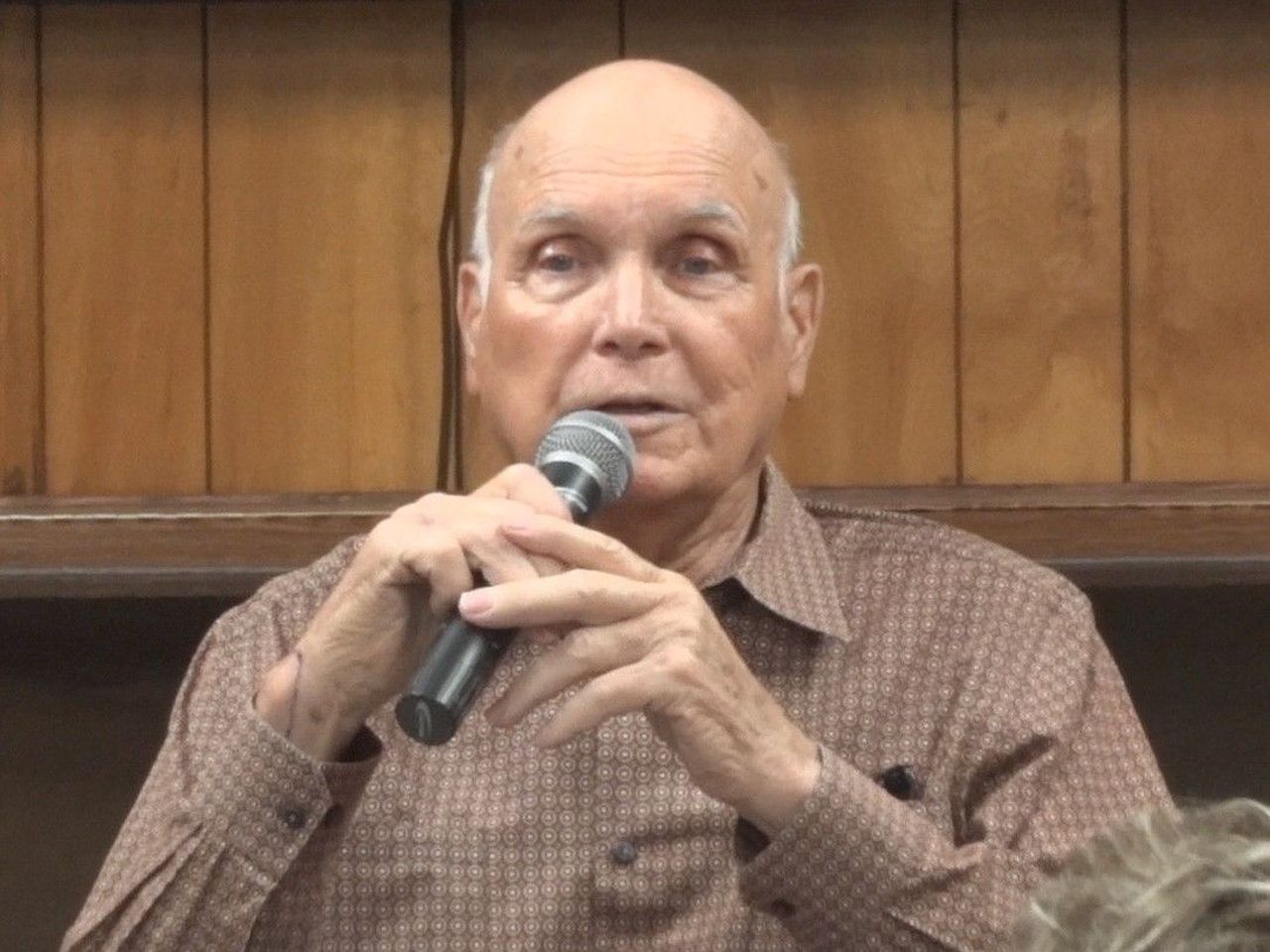 Alvin Lynn, author of Kit Carson and the First Battle of Adobe Walls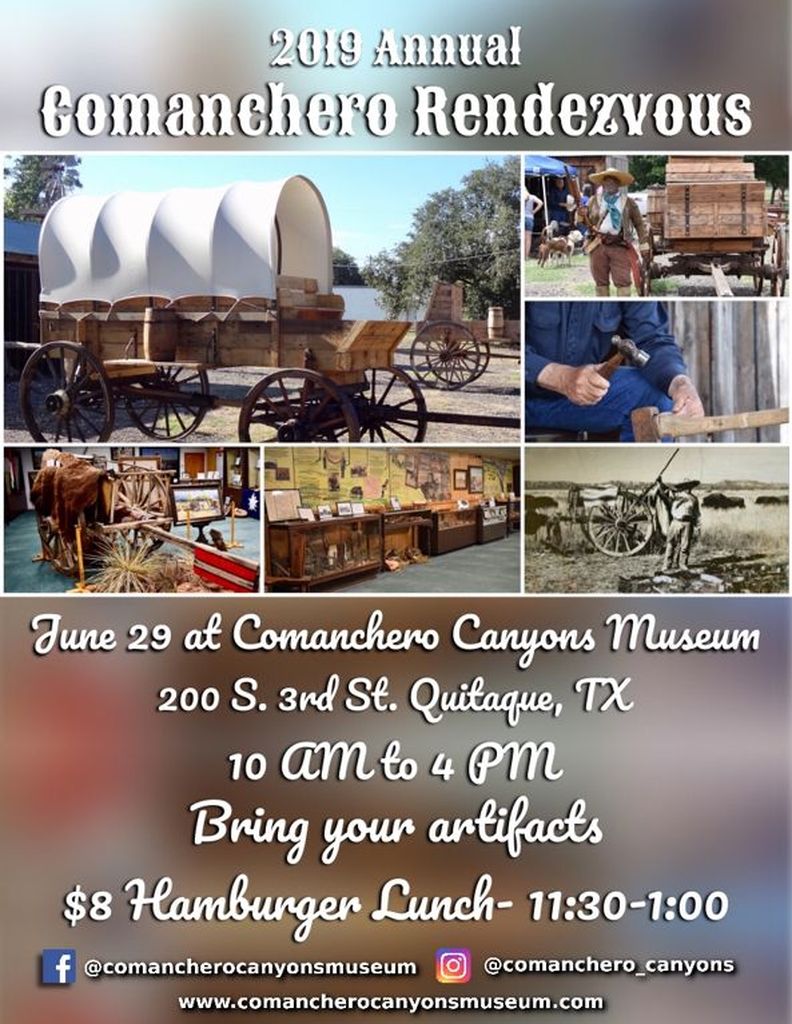 2019 Comanchero Rendezvous flyer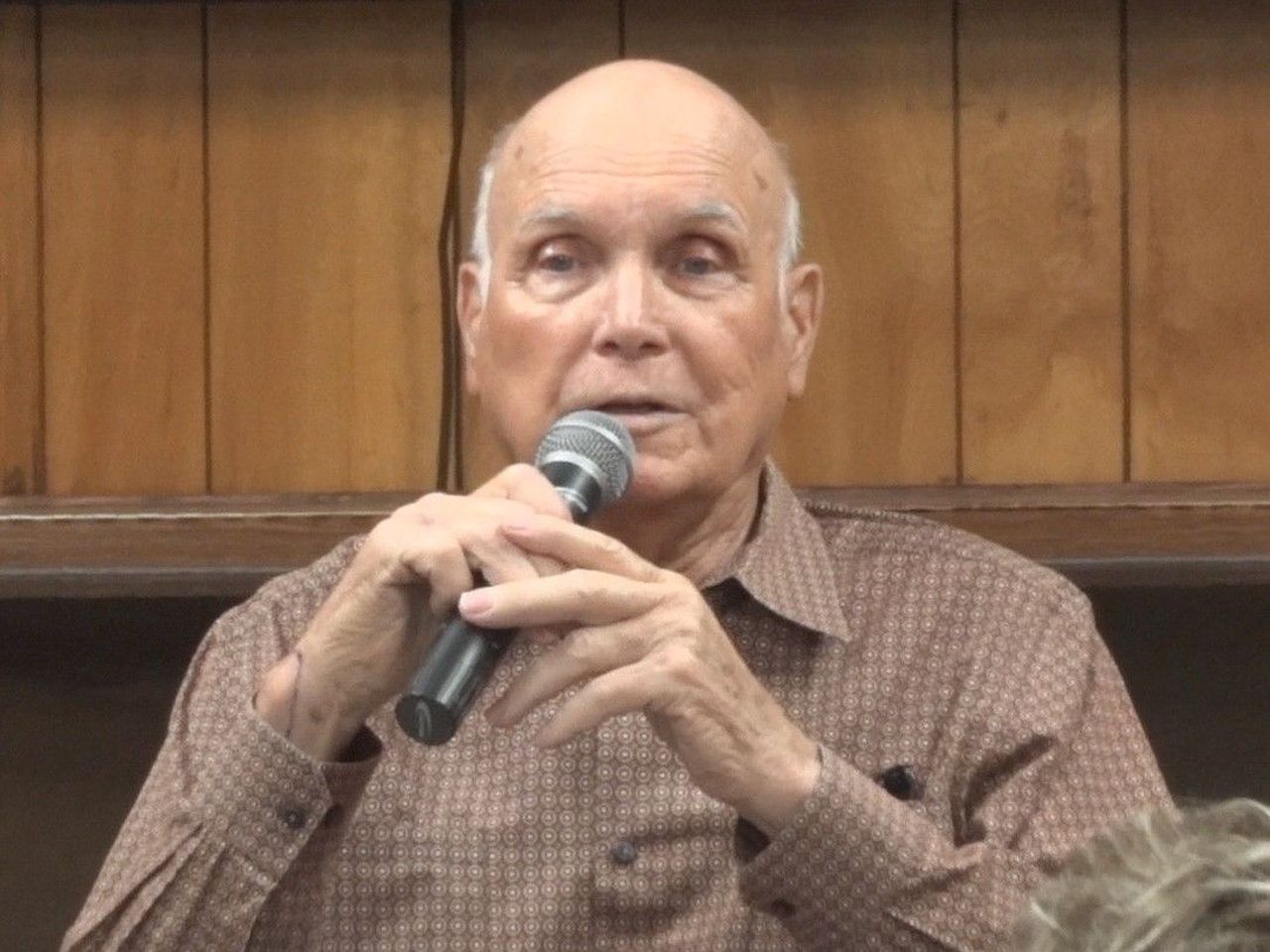 Alvin Lynn, author of Kit Carson and the First Battle of Adobe Walls
Article written by Marisue Potts
The 2019 Rendezvous drew from far and wide over 200 history lovers, gathering to exchange information and celebrating many different cultures as presented by the Comanchero Canyons Museum. In addition, many friends and family members descended on Quitaque on June 29 to hear a presentation by Alvin Lynn, author of Kit Carson and The First Battle of Adobe Walls. For 200 miles, much by foot, Lynn traced the trail, the 15 historic campsites, and a battleground of the U.S. military expedition of 1864 against the Kiowa. Utilizing military reports, amassing 1,800 metal artifacts, and talking with landowners, Lynn's efforts revealed much about the little known history. The attack on the Kiowa camp of Chief Dohasan nearly resulted in a Custerlike disaster for Carson and the soldiers.
"We all remember when we found our first arrowhead," the Motley County native said. Lynn was born and raised on a farm near Whiteflat, Texas. As a youngster he and his friends roamed the foothills, enjoyed the freedom to hike, explore the wildlife, and find an arrowhead or two. As an outdoorsman, he was naturally attracted to archeology, anthropology, and history. These interests directed his vocational and avocational paths, leading him into teaching, reading, research, and field work. His broad knowledge of historical events offered him frequent occasions to speak to clubs and organizations.
Blacksmith Cotton Elliot making copper bracelets
Alvin Lynn speaks to the crowd
Blacksmith Cotton Elliot making copper bracelets
Alvin Lynn speaks to the crowd
In 1995 when Alvin retired from teaching social studies and science, he became a steward for the Texas Historical Commission. Being a steward and avocational archaeologist extended Alvin's opportunities to speak with individuals and groups, educating them in the value and techniques of recording history.
Alvin has a strong belief that man must preserve the history hidden in the earth. Within every buried artifact lies a story, a story that will remain untold until retrieved, recorded, and processed. His passion is revealing the stories and helping others to do the same. In his mile he emphasized several guiding principles of a steward: one must have landowner permission; artifacts belong to the landowner unless otherwise designated; and cultural sites should be recorded for future research.
The Lynn family was first to enjoy hamburgers from the grill of Anthony Kingery, assisted by an able and unheralded kitchen staff. Some 175 hamburgers were served to guests who participated in the annual fund raising activities and enjoyed renewing or building new friendships. The line was sometimes long but it presented opportunities to view displays, seek information about private collections from experts on hand, or take a chance on a raffle for a landscape painting of Caprock Canyons by Kayla White.
Others took time to check out the activities in the courtyard. The frontier settlement of a cabin, windmill, two wagons, and a blackmith shop, created by Ronnie Carpenter, was the setting for Cotton Elliott to pound out metal tools, a hot job even on a cool day with the coal fire going. He came up with something very popular with the ladies, shaping copper bracelets as they watched, a treasure to remember the day.
Archaeologist Rick Day examines artifacts brought by visitors
Archaeologist Rick Day examines artifacts brought by visitors
Those who wanted to learn to flint knap or watch an expertcreate an arrowpoint, were treated to the skill of Vyrl Keeter, coming from Muskogee, Oklahoma. For several years, Keeter, who is designated as a Cherokee National Treasure and has demonstrated at the Smithsonian Museum of the Native Americans, has donated his time to join in the festivities. Among the examples of his skill were long bladed obsidian knives in a variety of colors and handles.
The Comanchero Canyons museum extends thanks to all who participated in this event in any way. It was a great day for history. For those who wish to purchase Alvin Lynn's book, "Kit Carson and the First Battle of Adobe Walls: A Tale of Two Journeys", it will be available at the museum on any Saturday from 10-4 p.m.