Comanchero Canyons Museum Hosts Quanah Parker Descendants
SATURDAY, MAY 26, 2018
---
Article by Carol Campbell published in the Caprock Courier, Vol 110, No. 23, Thursday, June 7, 2018
---
Credit: Daniel P. Sink of Vernon Texas, Public domain, via Wikimedia Commons
The Stars Align...
Author Bill Neeley had a dream 30 years ago. In 1988 he wrote a biography of a young Comanche warrior named Quanah, the last Comanche Chief of his generation to roam free in the Comancheria. The boundaries of Comanche country in the 19th century staggers the imagination, covering parts of Colorado and Kansas to western Oklahoma, including the Trans Pecos region of Texas, and parts of New Mexico.
The Comanche were legendary horsemen, Neeley wrote, following the bison herds; traversing an enormous area in a day; camping by off-the-beaten-path fresh water streams, raising their families, and sometimes white captives. Quanah Parker's mother Cynthia Ann Parker was captured in a raid at Fort Parker in 1836. Quanah was part of the Quahadas band (antelope eaters). He was a fierce warrior in his youth; and eventually a Warrior Chief that led his defeated people to the reservation. He had a foot in both worlds, descendant Don Parker said.
"The American Indian was caught in conflict between two worlds. Quanah never gave up his hair (braids), his seven wives, or his church." Quanah was founder of the Native American Church, now the most popular indigenous religion of Native Americans in the US.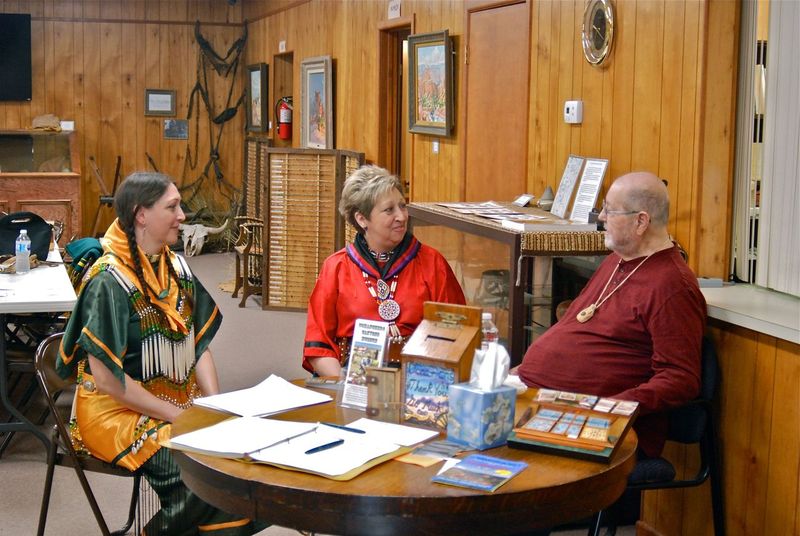 Author Bill Neely (right) with the descendants of Quanah Parker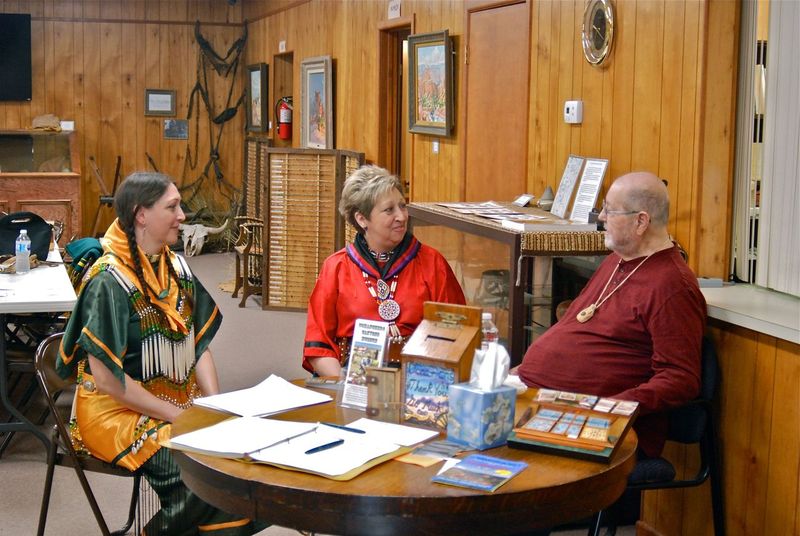 Author Bill Neely (right) with the descendants of Quanah Parker
Neeley, who grew up between Tulia and Silverton in Briscoe County, self-published 3 dozen copies of his biography using a printing press in Slaton, Texas, before John Wiley & Sons in New York City marketed the book, selling 3,000 copies in 13 months. One of those copies caught the eye of a Hollywood producer who met with Neeley in Amarillo, Texas, to option the book for a movie. The catch? He had to write a screenplay.
Neeley said he told the producer he had never written a screenplay before — the producer told him to buy a book. Neeley contacted Professor Emeritus Dr. Andrew Horton, University of Oklahoma, who became his screenwriting partner, and, "I wrote a 4 hour movie," he said, entitled, "Eagle of the Comanches."
The option for the movie expired in 1992, but Neeley's dream lived on. In 2007, Castle Books in New York published another edition of his book renamed, "The Last Comanche Chief: The Life and Times of Quanah Parker." Then, as fate would have it, documentary filmmaker David Rennke, an independent filmmaker who produced "Pearl" — the story of a Chickasaw aviation pioneer contacted Neeley about a collaboration on Quanah Parker. Everything fell into place except a filming location - enter, Bob Saul.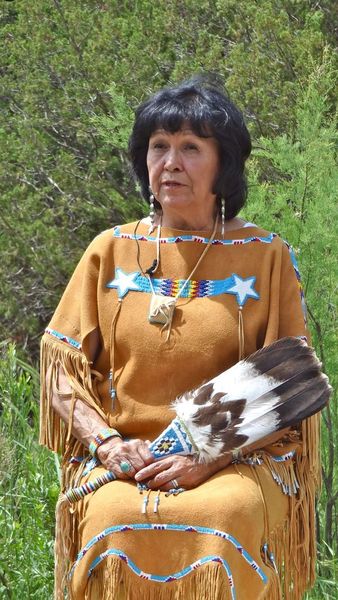 Ardith Parker, great granddaughter of Quanah Parker, in traditional dress. Her buckskin dress was made by her husband Glenn Leming.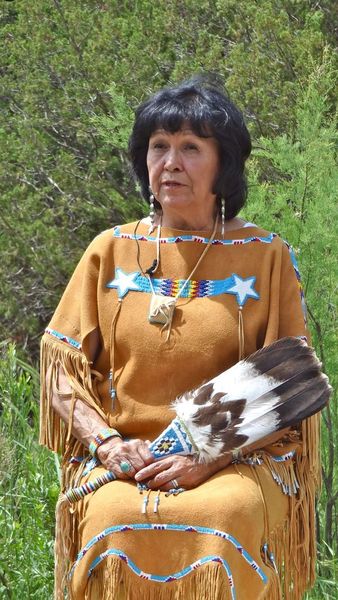 Ardith Parker, great granddaughter of Quanah Parker, in traditional dress. Her buckskin dress was made by her husband Glenn Leming.
In March 2018 at a book signing event in San Antonio hosted by Henry Cisneros of Neeley's new book, "A Tejano Knight, The Quest for Juan Seguin," Neeley and Bob Saul's orbit crossed for a third time on the trail. The idea of a film project was discussed. Bob offered to help develop possible film projects for both books. Later, he met with Dr. Horton, Neeley's screenwriting partner, to discuss oral history possibilities.
A plan was born to capture the Quanah Parker descendants at the opening of a new Comanche exhibit attended by the family at the Panhandle Plains Historical Museum on May 25; then detour them to Quitaque for filming. "We had less than a week to pull everything together," Saul said. Filmmaker David Rennke cleared his schedule for May 26, and the stars aligned.
The filming location was decided due to time constraints and accessibility. Bob asked his brother Jim Saul who owns and operates the Saul Ranch in Quitaque (where the brothers grew up) if he could use the ranch as the filming location. The site was selected in the rugged red rock canyons of the caprock area. "My brother and I grew up working cattle and roaming those canyons in the early 1950s," Bob said. "We have found hundreds of arrowheads, several campgrounds, and two dugouts on the property."
The Land Remembers...
The descendants met with Bill Neeley at the Comanchero Museum, Quitaque, Saturday, May 26, 2018, to discuss the theme for the day and learn what to expect on-site at Saul Ranch. One young descendant in full regalia admitted she knew little of the stories of her people. No worries, Neeley said, "the land remembers."
More than 10 members of Bob's extended family were on hand to lend a hand and other volunteers participated in the logistics of caravanning the Parker family more than 10 miles southwest of Quitaque on a narrow ranch road with spectacular views. It's not hard to imagine Quanah and his family secreted away on a spring-fed creek at the base of these enormous red rock canyons of Briscoe County.
Perched on a stool in front of a massive Triassic Red Rock formation as a backdrop, one-by-one descendants told their stories and the stories of their ancestors. Bob Saul skillfully handled the interviews; and David Rennke captured the scene on film with just the right light. A light breeze rustled through the canyon as "quiet on the set" was announced.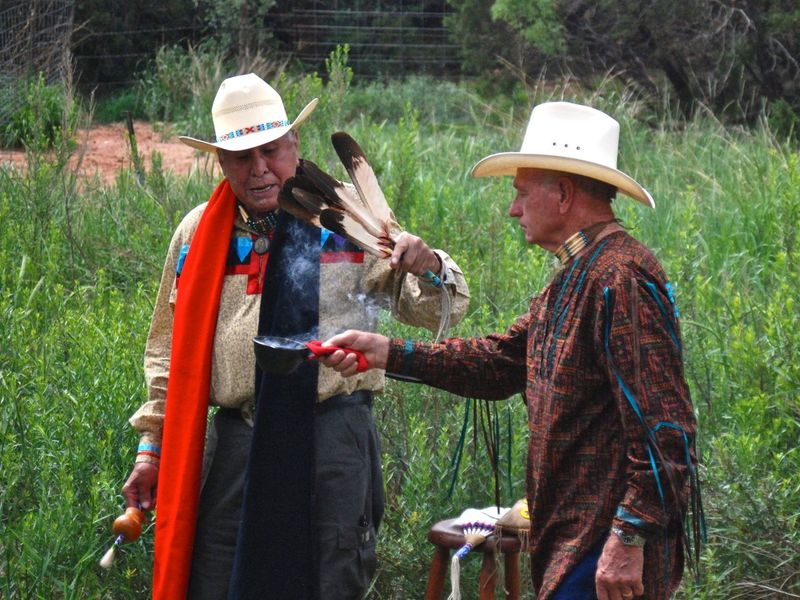 Quanah Parker's great grandson Don Parker (right), and his brother-in-law Glenn Leming performing the cedar blessing ceremony.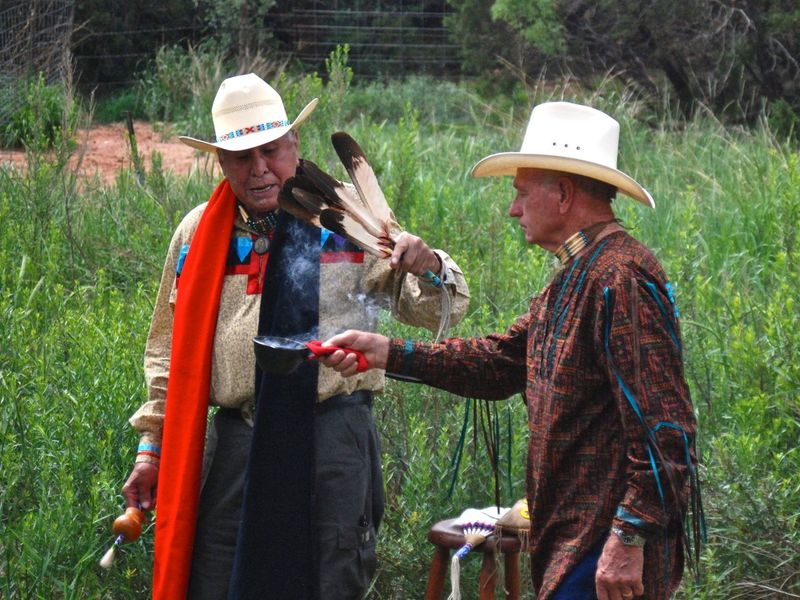 Quanah Parker's great grandson Don Parker (right), and his brother-in-law Glenn Leming performing the cedar blessing ceremony.
Blessed Be the Land
As a hush fell over the canyon, chatter quieted to a whisper, then silence, except for a chirping bird, while a lone turkey buzzard circled overhead. Quanah's great grandson Don Parker, and his brother-in-law Glenn Leming, prepared for a Cedar Blessing Ceremony.
The blessing ceremony is a traditional Native American ritual using cedar smoke and eagle feathers. Cedar smoke is considered a medicine of protection and is used to bless, cleanse, and purify. The red berry Juniper in the canyons of west Texas is considered especially sacred. "It is very humbling to be here in what I consider holy ground," Don Parker said. "I'm glad we can share these songs and this holy cedar with the birds, the valley and the animals...."
Accompanied by Glenn Leming with a single drum beat, Don Parker sang in his native Comanche language, waving his eagle feathers over the rising aromatic cedar smoke, chanting on behalf of "Indian country" where his ancestors walked more than a century ago. He then sang a Quanah Parker family memorial song honoring Quanah, ending the ceremony with a prayer "I pray today will go down in history as a teaching tool for our children and their children to come."
He then told his favorite Quanah story: "During the Red River War years of 1874-75," he said, "Mackenzie was chasing the people in the canyons and the mounted Calvary was gaining on him. Quanah called the Medicine Man who smoked his pipe, raised it to the heavens, and it began to snow, progressively getting worse," Parker said. As the story goes, their tracks were lost in the storm and they escaped. "Mackenzie's Field Notes verifies this account," Parker added. "Mackenzie chased Quanah in a lot of places before his submission to the reservation."
What does this land remember? Saul asked. "It remembers the life of all animals, rocks, birds, and (human) respect for the land," Parker said.
On Cynthia Ann Parker, "Naduah," Quanah's mother, who lived with the Indians for almost 25 years after her capture in 1836, he added, "my heart cries for Cynthia Ann my own blood. Her little life was so mistreated. She was torn from her (Indian) family, and I believe, she died of a broken heart." According to most accounts, her repatriation in 1860 was a disaster. "Her little daughter, Prairie Flower, died in captivity, and she mourned for her children and husband."
Quanah never stopped looking for his mother, Don Parker said. However, they were never united in life, only in death. Cynthia Ann died in 1871. Before Quanah died he asked that his body be buried next to his mother. In 1911, Quanah was buried at Post Oak Mission Cemetery, Cache, OK. Later he was reinterred at Fort Sill Post Cemetery in the Chiefs Knoll. Cynthia Ann and Little Prairie Flower were reinterred from the Post Oak Mission Cemetery and were buried beside her son.
Family Culture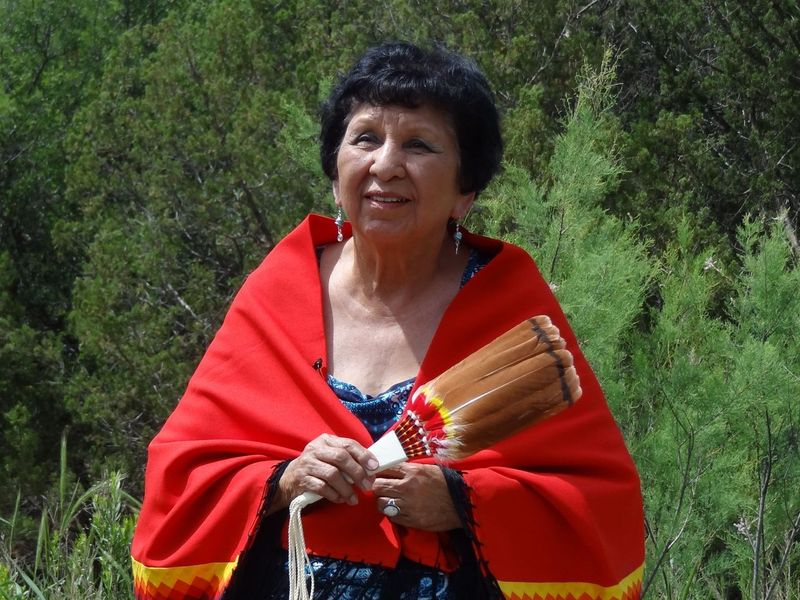 Sandra Parker Chestnut, great granddaughter of Quanah Parker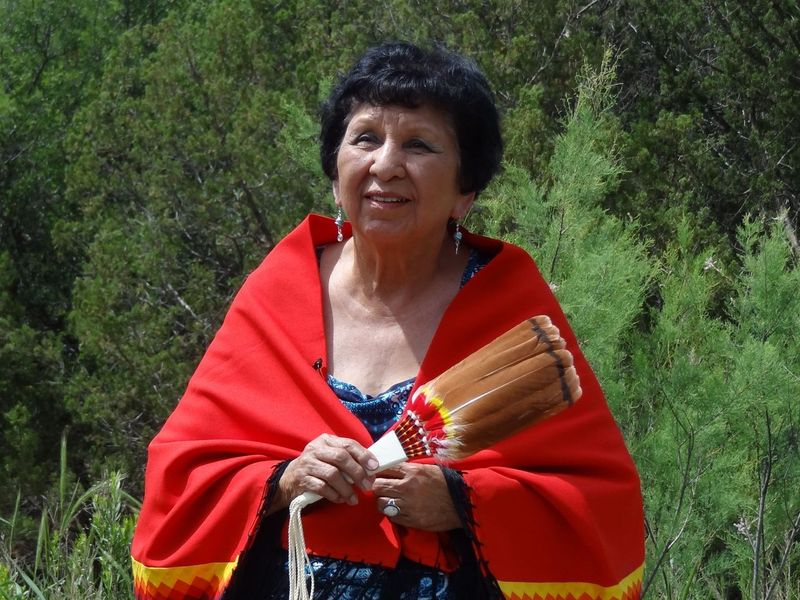 Sandra Parker Chestnut, great granddaughter of Quanah Parker
Sandra Parker Chestnut, great granddaughter of Quanah, said the family culture is very important to her. She remembers the stories of her father, Baldwin Parker, Jr. Her greatest regret — "I wish I could teach my grandchildren the language," she said. The Indian Parkers host a reunion every year and invite the Texas Parkers to attend. "We all have one big heart," she said, "through good times and bad."
Great granddaughter Ardith Parker Leming said she was impressed that Quanah could keep the peace with seven wives. "He was always in charge, able to communicate with all his wives, and they apparently all got along together," she said, adding, "He must have been a very good listener."
Ardith was in full regalia wearing a leather dress with elaborate beading. "My husband (Glenn Leming) does the art of brain tanning on leather." The dress "breathes" she said. He also crafted her leather moccasin boots and leggings, as well as her eagle fan. The dress has red and blue beading of stars on the bodice, "because of Quanah 's Star House" in Cache, OK.
"What do you wish for others to know?" Saul asked. "I would like for people to ow that Quanah lives in us" and to "try and understand how we felt leaving our land," Ardith said. "In some ways, Texas feels more like home," she added, rather than her home in Oklahoma. "Texas ranchers helped feed the people with donated beef. Quanah was a leader - he demonstrated his abilities like education for the children, and the ability to get along with others."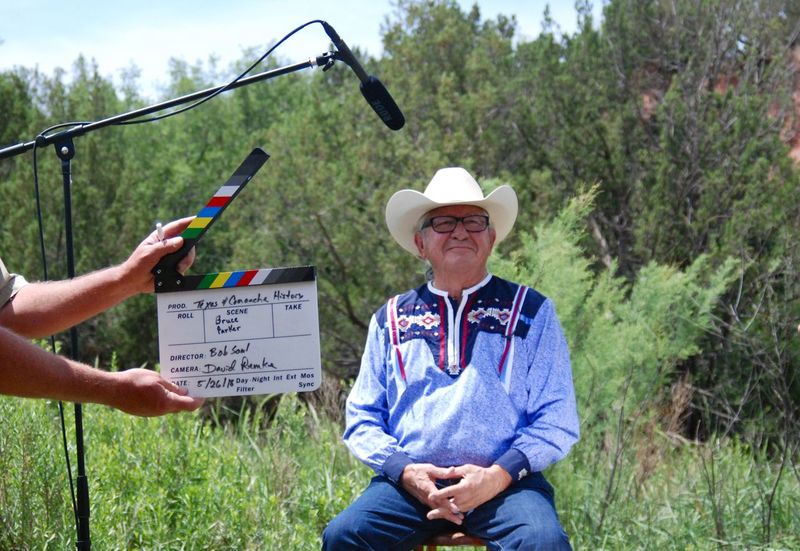 Bruce Parker, great grandson of Quanah Parker, on set.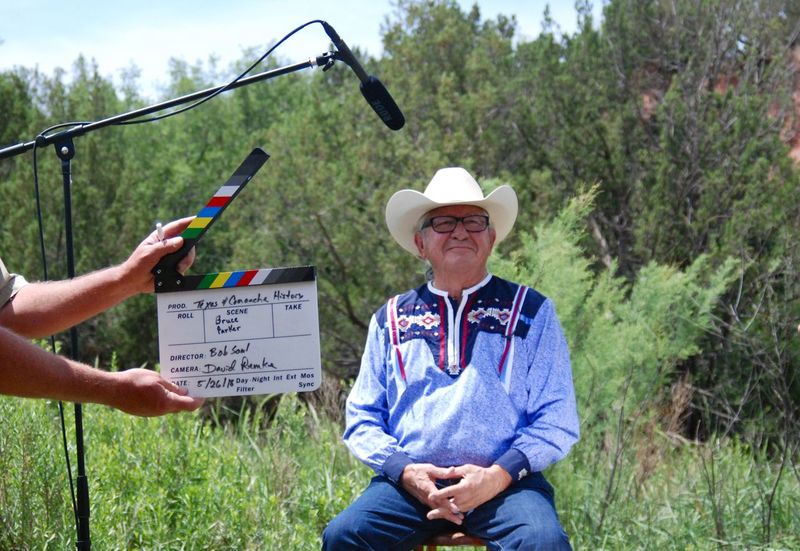 Bruce Parker, great grandson of Quanah Parker, on set.
Great grandson Bruce Parker, Albequerque, NM, son of Wilbur Parker, grandson of Baldwin Parker Sr., said, "I am the eldest living great-grandson of the Parker Side of the family." Bruce retired after a 40-year career in the Federal Government then he began to explore his heritage.
The stories that had been passed down to his elders, mostly ended with the generation before him, he said. "It takes a special person to tell those stories. "When Wilbur Parker was forced to attend Indian School, he said he was forced there to learn the white man's world." The Comanche language was forbidden.
Bruce thinks the film project in Briscoe County has a lot of possibilities. He said he was impressed with the hospitality of the Quitaque people. "I want to thank them for their fellowship; and for being wonderful stewards of the sacred Comanche land."
There is no doubt in Bruce's mind: "The Comanche story is in Texas.," he said. "When people ask me where I am from, I say, I was born in Oklahoma, I live in New Mexico, but my heart is in Texas."
Conclusion:
The wonderful people of historic Quitaque and the Comanchero Canyons Museum rolled out the red carpet to Quanah Parker's descendants for an on-location filming in the breathtaking Quitaque canyons for a film project with a working title of "The Land Remembers." Thank you, Quitaque! - Bob Saul